Archived 2018 News, Issues & Information
---
(12/31/18) "Officials confirm 10 deer in Hardeman and Fayette counties in Tennessee have CWD (Chronic Wasting Disease). The easternmost cases fall within 50 miles of Lauderdale County and Colbert County." This makes Tennessee the 24th state to verify the disease.
"The Alabama Department of Conservation and Natural Resources is increasing Chronic Wasting Disease (CWD) sampling surveillance efforts in northwest Alabama."
(12/27/18) Keep up with worldwide trends that may affect US prices with these stories on international wood markets:

(12/21/18) "Unlike consumers of most other wood raw materials, real Christmas tree farmers must compete with the popularity of artificial Christmas trees in the marketplace."
(12/20/18) "Over the past 25 years, Hepatica Falls Tree Farm in Ohio has seen five timber harvests. But thanks to the wise stewardship of Koral and Randy Clum, the land today holds larger trees and more volume growing than when the couple bought it in 1993." This Ohio couple who won National Outstanding Tree Farmer of the Year for 2018.
(12/19/18) "...wood pallets account for nearly 49% of hardwood lumber applications," and 849 million wood pallets were produced in the U.S. in 2016, up 14% from five years before.
(12/18/18) "A Coosa County sawmill is doubling its production capacity through an $18 million project." The project will upgrade a Central Alabama Wood Products mill in Nixburg that produces hardwood crossties.
(12/17/18) "There are still a few openings for the youth trapping workshops offered by the Alabama Department of Conservation and Natural Resources. The workshops are free, but registration is required."
(12/14/18) Landowners with an interest in managing their land for quail might find this useful: USDA multimedia presentation on restoring the Northern Bobwhite Quail. The website includes quail calls, interactive maps, and an overview of the species and restoration efforts.
(12/13/18) "The market for selling timber is not encouraging right now, but patience is a virtue in any investment."

(12/12/18) A new definition of "waters of the United States" is being proposed: "Our simpler and clearer definition would help landowners understand whether a project on their property will require a federal permit or not, without spending thousands of dollars on engineering and legal professionals."
(12/11/18) Below is a correction to an article in the December issue of Capital Ideas (top left column, page 3 -- www.afoa.org/CI/2018/12.pdf) about Gift Taxes:

"The annual gift tax exclusion is the amount you may give away per person, per year, in a tax-free manner. Gifts given as either lump sum amounts, or as a series of amounts to the same person throughout the course of one calendar year, are not subject to the gift tax, if totals do not exceed $15,000. In 2018, the annual gift tax exclusion grew by $1000--up from $14,000 in 2017.

"The annual gift tax exclusion figures are applied individually, based on each gift recipient. For example, let's say that in 2018, you gave $15,000 in cash to your daughter, a $15,000 car to your son, a $15,000 diamond ring to your best friend, and $15,000 worth of stock to each of your grandkids. In this scenario, none of these offerings would be federally taxable, since no single individual received more than the $15,000 limit." Source: The Balance, 12/10/18.
(12/10/18) "Today's decision is a victory for fairness and common sense and a loss for overreaching federal bureaucrats." Alabama's Attorney General applauds Supreme Court decision in favor of property rights.
(12/7/18) "Alabama hunters harvested 144 alligators during the 2018 season, with the heaviest weighing in at 700 pounds." Lower Alabama landowners and next year's alligator hunters, take note: "We still only had a few alligators harvested south of I-10. There are a lot of big alligators down there that are not being hunted."
(12/6/18) Gene Wengert, known as the Wood Doctor, says Canadian purchases of southern sawmills "may lead to additional shortages of lumber used in home construction in the U.S.," which would then reduce housing starts and demand for wood products used in home remodeling. He says, "anything we can do to encourage housing starts and remodeling will be an advantage to our industry."
(12/5/18) Jeff Peters gives a Southern perspective on wood-based building design trends: "In this region…more designers [are] leveraging the aesthetic of heavy timber for commercial buildings and the economy of wood framing to achieve quality mid-rise projects at less cost."
(12/4/18) "The Westervelt Company is expanding its wood products manufacturing business through the construction of a new facility that will produce Southern yellow pine lumber." The new mill will be built in Thomasville, Ala., in Clarke County.
(12/3/18) If you're you'd like to learn more about conducting controlled burns, start with Prescribed Fire 101, a "free one and a half hour webinar from the Southern Fire Exchange" and its partners. See the full list of free webinars on prescribed fire from some of the regional – and national – experts.
(11/30/18) The Trucks, Construction, Forestry, and Farm auction at JM Wood Auction is next week, December 5-6, 2018, in Montgomery. Check out some of the offerings online first if you're in the market.
(11/29/18) The final word on the dusky gopher frog: "The federal government can't designate land as a habitat for an endangered species on the expectation that the animals might eventually want to move there, the Supreme Court unanimously ruled Tuesday, delivering a victory to property owners."
(11/28/18) The ABAC Foundation has purchased approximately 1,000 acres to create the ABAC Teaching Forest. This forest will be used to increase the experiential learning opportunities of the students in the forestry and wildlife management programs. Degrees are offered in 3 tracks: Forestry, Wildlife Management, and Conservation Law Enforcement. Abraham Baldwin Agricultural College (ABAC), located in Tifton, Georgia, focuses on "essential skills and knowledge that prepare them to be productive employees immediately upon graduation."
(11/27/18) "Interest in selling agricultural land is picking up among landowners." Farmland and forestland sales aren't always exactly in tandem, but trends between the two probably have some connection, so it's good for forest landowners to keep an eye on these things. Source: Alabama Agribusiness Council, AgAlert, Nov. 27, 2018.
(11/26/18) Although this fun video imagines possible forestry machines of the future, the fascinating tree de-limber in this video is already a reality.
(11/20/18) This handy machine might not be practical for stocking your wood pile, but it would be nice to have on hand this winter. The Forestry Equipment in Action Facebook page has this and other videos of forest equipment, including this low-tech method of loading logs.
(11/19/18) A third deer in Mississippi has tested positive for chronic wasting disease (CWD). Outdoor Alabama reports that if CWD spreads to Alabama, the economics of hunting in Alabama are likely to be permanently altered. The latest infected deer in Mississippi was found within 50 miles of the Alabama border.

(11/16/18) "Today, Georgia-Pacific celebrated the official start of production at its newest lumber facility in Talladega, Alabama. The $100-million, 300,000-square-foot, technologically advanced plant took nine months to complete." Good news for forest landowners in the region with timber to sell.
(11/15/18) Congratulations to AFOA members Stan and Suzanne Wood of Cullman County, "named the Alabama Tree Farmers of the Year during the Alabama Landowners Conference Awards Program Oct. 15, 2018."
(11/14/18) Deer gun season opens Saturday, November 17. You can see the deer season zone map here. Even if you're not hunting, be sure to wear safety orange if you're in the woods during hunting season.
(11/13/18) "At MSU (Missouri State University), a research team is … trying to breed a better walnut tree with a more consistent yield that is disease-resistant, has a thinner shell and a large kernel. They're using DNA technology to identify the varieties of trees that have the best qualities." This isn't a major species in Alabama, but still might be of interest to hardwood growers especially.
(11/12/18) Two different groups posted their housing starts predictions: "Forisk projects 2018 housing starts of 1.285 million, up 6.8% from 2017 actuals..." "Because of headwinds facing both demand and supply, Forest2Market's current 2020 forecast for housing starts is 1.259 million units, roughly the same as it is for 2018 and 2019."
(11/9/18) This video uses the kids' movie Wreck it Ralph to illustrate the misuse of eminent domain and how it works in a colorful way. It doesn't happen to forestland often, but it has happened.
(11/8/18) An information session on hurricane recovery hosted by the University of Georgia is available online. The program focuses on "disaster assistance information from U.S. Department of Agriculture (USDA) agencies including the Farm Service Agency (FSA), Natural Resources Conservation Service (NRCS), Rural Development (RD), Risk Management Agency (RMA), and National Agricultural Statistics Service (NASS)." Resources for both agricultural and forest producers are covered. See the AFOA calendar for details on a tax workshop on casualty loss and income tax deductions on December 7, 2018.
(11/7/18) "If people start getting pessimistic about housing … pull back and don't want to buy, then there will be a drop in construction jobs and that could be a seed for another recession," Yale Economics Professor and Nobel Laureate Robert J. Shiller said. "We are overdue for another recession. These things come with regularity." Source: Yahoo Finance, courtesy of the NFIB Small Business Weekly, 11/6/18
(11/6/18) "Many rural students can earn full scholarships to trade schools in their area and can graduate debt-free with a stable, secure, well-paying skilled job with a little help and support. ... Our Forestry Works website is a dedicated sight for students to find information about careers and further training that may be needed to reach their goals. Visit this site for more information.
(11/5/18) Tolko Industries (U.S.) Ltd. and Southeastern Timber Products (STP) announced a joint-venture partnership in a lumber mill in Ackerman, Mississippi, expanding an existing facility's capacity from 100 million board feet to 300 million board feet. Even though this isn't Alabama, more regional demand for timber should be a good thing for Alabama timber growers.
(11/2/18) When you find yourself in hole and can't get out, stop digging..."Historically low prices for pine stumpage over the past several years are unlikely to encourage more conversions to planted pine..."
(11/1/18) Get ready to burn: "On November 1, 2018, the summer burn ban associated with vegetative or land-clearing burning, as imposed for Baldwin, Mobile, DeKalb, Montgomery, Etowah, Morgan, Jefferson, Shelby, Lawrence, Russell, Madison and Talladega counties, expires." This ban is usually renewed in the spring, and doesn't affect prescribed burns, which do still need a permit. Source: In the South Next Month (November 2018).
(10/31/18) "How can we best use [drones] and make us more productive, get more work done, and better quality work in the same amount of time?" This forestry program is exploring how to integrate drones into their forestry curriculum.
(10/30/18) The Quality Deer Management Association sent its members a letter in support of the state's plan for reducing the risk of chronic wasting disease (CWD): "While some actions may be unpopular, it is QDMA's professional opinion that the plan is solidly grounded in the best available science and represents the most viable approach to reduce the risk of CWD introduction." Read the full letter here. This map shows the location of the second found case in Mississippi.
(10/29/18) Here are a couple of perspectives on the hardwood and softwood markets.
(10/26/18) "Forest landowners need markets, not a layer of extra costs. Forest management certification...is often championed as a solution to this false narrative about the sustainability of our private forests, but in many cases certification is a solution looking for a problem."
(10/25/18) "The US government's Conservation Reserve subsidy program started with the best of intentions. … Unfortunately, the program became a boondoggle where the farmers who went along with it are now facing a plunge in prices for their timber crop." The Wall Street Journal ran an article on this topic by the man who invented the program, and who now regrets it.
(10/24/18) A second deer has been confirmed with Chronic Wasting disease (CWD) in Mississippi. This video is a good summary of the disease, and the official release from the Mississippi Department of Wildlife, Fisheries, and Parks is here. AFOA has detailed the measures Alabama is taking to keep CWD out as well as some of the consequences of the disease to the hunting industry.

(10/23/18) "Aerial surveys conducted by the Alabama Forestry Commission (AFC) last week indicated approximately 42,357 forested acres were damaged by the storm," mainly in Houston County, at a value of nearly $20 million according to Forest Inventory and Analysis data.
(10/22/18) For those facing Hurricane Michael timber losses: "Timber or landscape trees destroyed by the hurricane, fire, earthquake, ice, hail, tornado, and other storms are "casualty losses" that may allow the property owners to take a deduction on their federal income tax returns. The key for most cases is to figure out the "adjusted basis" of the timber." Source: National Woodlands, Fall 2018
(10/19/18) The Wall Street Journal on how many Southern landowners lost their retirement plans: "A crush of maturing trees arrived just as U.S. housing markets collapsed in 2007 and 2008, creating a supply imbalance that in some places has never ended."
(10/18/18) Researchers at the University of Dayton simulated a midair collision of a drone and an airplane wing at 238 mph -- this is the result.
(10/17/18) The SAF College Guide is a downloadable, sharable resource for students interested in a career in forestry or natural resources. "The 2018 guide includes a listing of all SAF-accredited programs, as well as 19 institutions describing their programs in their own words."
(10/16/18) "If your property is approximately in the red or yellow shaded area [of the map found here], expect some degree of timber damage. For properties further south and/or closer to the eye path, expect significant timber damage. The Alabama Forestry Commission is doing a flyover of affected areas and is expected to have a report available by the end of the week. You can address questions to them about Hurricane Michael at the following email address: hurricane.michael@forestry.alabama.gov
(10/15/18) Threatened species could become endangered one day. Will their protected habitat be imposed on your land? 33 threatened species in Jefferson County; 24 in Baldwin. Find out how many protected species are in your home county, or in the county where you own land, with this map. Click on the county, then click "Show related records."
(10/12/18) The forest products industry accounts for approximately four percent of the total U.S. manufacturing GDP, manufactures over $200 billion in products annually and employs approximately 950,000 men and women. Via the American Forestry and Paper Association, check out the economic impact of the forest products industry nationwide at the previous link, or go directly to the economic impact in Alabama.

(10/11/18) The comment period on critical habitat designation for the black pinesnake has been reopened. The revised rule and associated documents, along with directions on how to submit comments are available at http://www.regulations.gov using docket No. FWS– R4-ES-2014-0065. Further instructions are available here at the FAQ. Comment by Nov. 13 to voice your feelings about changes made to the rules about critical habitat designation, including: "fewer proposed acres are now on private land and more are on state-owned land."
(10/10/18) "If you wish to improve your land with ponds, barns, cabins, country homes, or in the case of the Bromleys, a barndominium, these are all improvements that we can finance."
(10/9/18) "Though experts say biomass should continue to play a key role in the U.S. renewable power portfolio for its baseload properties, contributions to forest management, and other reasons, a swath of uneconomic biomass power plants across the U.S.—especially in the West—have been recently idled or shut down."
(10/8/18) "On per-unit sales (sealed bids in particular), sales that involved consultants exceeded the non-consultant sale prices by no less than 11%. … Not only did the trend hold over time, but it also held over various tract sizes, with consultant sales bringing higher total bids on all four separate acreage categories." This data-driven approach shows the real value of consulting foresters in timber sales.
(10/5/18) "a new state law … allows counties to collect delinquent taxes through the auction of liens against the properties—instead of auctioning the properties themselves." We advise everyone to pay taxes promptly, but this law addresses a process that allowed investors to profit off landowners who got behind on tax payments.
(10/4/18) Based on the response AFOA has received from members who have shown an interest in acquiring lower cost health insurance, small business owners aren't the only people in the U.S. who are concerned about health care costs. 84 AFOA members along with 70 family members have asked the association to help them find lower cost health insurance. If you are interested in lower cost health insurance, send AFOA the following for yourself and each family member who would be included:

• name
• birthdate
• zip code
• gender
(10/3/18) "The United States has returned to the list of the top ten freest economies in the world after an absence of many years... Five broad areas of freedom that the report measures—size of government, legal system and property rights, monetary policy, trade openness, and regulation..." AFOA interviewed Vasquez and O'Grady back in 2004. Listen to Vasquez on Property Rights, and O'Grady on Free Markets and this index.
(10/2/18) "This book, beautifully illustrated with photos and filled with useful information, tells the stories of nine unique forest landowners—how they got started, their goals, stewardship philosophies, challenges, and the rich natural and human histories of the land they tend."
(10/1/18)/a> The Forest2Market blog asks and answers the question "How much is an acre of timber worth?"
(9/28/18) "What 'everybody knows' is not quite correct." This issue takes a somewhat light-hearted look at the growth in demand for paper and paperboard packaging. Source: Forest Research Notes, Vol. 15, No. 3
(9/27/18) What can you do with rabbit? Check out the Wild Game Cook-off in several locations around the state. Click the county name for details: Morgan County, Mobile County, Dallas County, Tuscaloosa County, Covington County
(9/26/18) KyKenKee Inc. is investing $28.2 million at its plant in Vance. "KyKenKee manufactures hardwoods and Southern Yellow Pine, as well as specialty cut items and Greenscape products such as wood chips and bark."
(9/25/18) LOCAL AMENDMENTS NEED YOUR REVIEW BEFORE NOVEMBER 6. We scanned each sample ballot on Secretary of State John Merrill's website and found several local ballot measures that may be of interest to some AFOA members. Source: Capital Ideas, October 2018, middle column of page 3
BLOUNT COUNTY voters and GENEVA COUNTY voters will decide whether to form or create fire districts with dues assessments described in each local amendment. AFOA has been hearing horror stories about completely out-of-control fire districts, some with charges as high as $8 per acre for undeveloped forestland! Until the laws are passed that rein in fire district taxing authority, we would advise landowners to use extreme caution before approving these districts.

MOBILE COUNTY voters will decide whether to pass a 6 1/2 mill property tax for roads, bridges, and drainage.

ELMORE COUNTY voters will be asked to repeal "Home Rule" and

CLEBURNE COUNTY voters will be asked to approve "Home Rule."

MADISON COUNTY voters will decide whether the county commission can impose ordinances regulating excessive noise. We don't know if the regulations might include discharge of firearms or operation of logging equipment, but local voters may want to check on this before voting yes.

CALHOUN COUNTY voters will decide whether police and planning jurisdictions should extend outside of some municipalities into unincorporated areas. Probably not a big deal for most voters, but a plan for your land that prevents timber harvests could be a big negative for you.
(9/24/18) Logging has extra challenges out west…In a video, "A log truck driver has had enough when a couple of California ecological protesters climb up on his truck."
(9/21/18) Narrative Gone Wrong: 3 Myths that Reveal the Inaccurate Story About America's Family Forests is a just-released, hard-hitting critique of the U.S. Forest Service's misleading use of information gathered to describe and understand owners of forestland in the U.S. Source: Forest Landowners Association.
(9/20/18) North Alabama market news and things to do at this time of year from Forest Management Specialists newsletter, volume 5, issue 3.
(9/19/18) Tips on Generating Multiple Incomes From Your Property, from LandThink.com.
(9/18/18) This blogger accompanied the 2018 AFOA Annual Meeting tour of the Jack Daniels cooperage. For more information about growing hardwoods, listen to Drs. David Mercker and Callie Schweitzer, Managing for Quality White Oaks and Managing for Quality Hardwoods, at the 2018 AFOA Annual Meeting. There are 9 video presentations from the meeting available, free and online.
(9/17/18) Although sportsmen and women are a significant economic force, "The number of people who participate in sportfishing, hunting and target shooting represents [ONLY]16.5 percent of the total U.S. population."
(9/14/18) "Getting market value for your timber should be the primary consideration when making a decision to harvest." The Forest2Market guide to selling timber.
(9/13/18) "It has a range of more than 50 miles with six gallons of gas, and can fly for more than 20 hours." This type of working drone will soon be playing a part in the management of forests in Alabama, I am sure — storm damage recon, herbicide spraying, planting survival checks, Southern Pine Beetle monitoring, wildfire detection and surveillance, and much more.
(9/12/18) An electric hunting bike might be useful for more than just hunters. Read this assessment to see whether you might find use for one of these in getting around your forest land.
(9/10/18) Mass timber "project, intended as a showcase for mass timber products in Oregon and the U.S. Pacific Northwest, has turned into a complicated cautionary tale." Two layers of a panel came unglued and crashed down as a result of a process change that affected the adhesive. We like the idea of CLT (Cross-Laminated Timber) and hope the experts take their time and make this work.
(9/7/18) "Timber is a unique commodity, in that it is only sold once or twice in a lifetime. … By following the eight steps outlined [from Tennessee Ag Extension], you can ensure a successful and profitable sale."
(9/6/18) This site has charts and clickable maps that let users compare forest and forest-related economic data by state. (Note: ESRI's Story Maps work best when opened on a desktop (not ipad or tablet), with a high speed internet connection, and using Microsoft Edge software.)
(9/5/18) Let sleeping fawns lie: "If you find a fawn this time of year it may appear lost or abandoned, but its mother's absence is purposeful … to decrease attracting predators to the fawn. While the mother is feeding nearby, the fawn avoids detection by hiding motionless in a grassy area." If a fawn is found with serious injuries or confirmed to be orphaned, contact the nearest wildlife rehabilitator (list available at www.outdooralabama.com) permitted to handle deer.
(9/4/18) Caterpillar, Inc. announced the proposed sale, to Weiler Inc., of its purpose-built forestry product line "consisting of wheel skidders, track feller bunchers, wheel feller bunchers, knuckleboom loaders, and related operations facilities including … the demonstration and training center in Auburn, Alabama."

(8/31/18) American Chestnuts were "fast growing trees [that] were straight-grained and the wood was rot-resistant. … By the 1950s, virtually all-mature American chestnuts had succumbed to the disease." Several groups are working to produce a blight resistant tree, and you can learn more about them close to home at The American Chestnut Foundation's national meeting in Huntsville this October.
(8/30/19) Read this and be glad your forestland is in Alabama: "...Gov. Jerry Brown is proposing broad new changes to California's logging rules that would allow landowners to cut [some] larger trees and build temporary roads [up to 600 feet long] without obtaining a permit as a way to thin more forests across the state. The proposal ... is being opposed by more than a dozen environmental groups."
(8/29/18) "'Frequent prescribed fires in Southeastern forests can help prevent raging wildfires like those that have engulfed much of Northern California,' a Clemson University researcher says."
(8/28/18) Auburn University's new degree program in wildlife enterprise management is designed so graduates "hit the ground running with lodges, hunting preserves, fishing resorts, outdoor experience companies and many other types" of outdoor careers. Students will earn a minor in business and take courses in three different units across campus.
(8/27/18) To our dismay, "A surge in lumber prices and modest increases in sawlog costs have resulted in record profits for many lumber companies in North America and Europe in 2018," reports the Wood Resource Quarterly.
(8/24/18) "If you're going on a hunt out of state, you've got to be careful about what you're bringing back." Restrictions on bringing cervid (deer, elk, moose, etc.) carcasses into Alabama have now been extended to carcasses from all states and Canada, in order to stop the spread of Chronic Wasting Disease (CWD). Remember, preventing CWD in Alabama is important for landowners as well as hunters. Property values will probably take a hit as CWD affects interest in deer hunting.
(8/23/18) A helpful chart for our would-be prescribed burners, long-range target shooters or hunters, drone pilots, or others who need a quick and dirty estimate of wind-speed.
(8/22/18) "As it turns out, the time of year a property is listed or closes can have a big impact on its price." Things to consider about when to buy or sell property from LANDTHINK.
(8/21/18) When making an offer on rural land, "purchasers often accept unnecessary risk they later regret, or make excessive demands that spoil a great purchase opportunity." LANDTHINK blog offers points to consider before you act.
(8/20/18) "We believe the key to restoring prosperity in Rural America--and specifically our four-county area--is to remove barriers by bringing fiber to every home and business." Part one focuses getting remote healthcare to rural Americans via broadband internet. Read the full description and watch the three-part video discussion on e-connectivity in rural America.
(8/17/18) "McDonald's recently opened its redesigned flagship store in Chicago and it's dominated by wood and cross-laminated timber (CLT)." Read the full story for more pictures of the interior and details on McDonald's plan to remodel locations nationwide with a similar look.
(8/16/18) Be sure to scroll through all these maps of land use in America. Each one tells an interesting story, culminating with a side-by-side comparison.
(8/15/18) Interesting LASER technology being tested in Israel might stop crown fires (not common in Alabama), provide escape routes for trapped fire fighters, or help create fire breaks. However, it's no replacement for regular prescribed burning programs and other management actions that can be employed but are not used much in the West (and not near enough in Alabama, for that matter).
(8/14/18) "Deer may actually be adapted for growing-season fire." While the idea has potential liabilities and difficulties, bow-range burning in September has interesting potential gains in the right circumstances. If you lease your land for hunting, this might be something to start thinking about. To start, learn more about Alabama burn permits here.
(8/13/18) Alabama's 4-H Forestry team placed first among the 15 states that competed in the 39th Annual National 4-H Forestry Invitational July 29 - August 2 in Weston, West Virginia. Read the press release here.
(8/10/18) This year's Alabama Hunting and Fishing Digest is now online. Click for information about 2018-2019 hunting seasons, bag limits, regulations and more. Be sure to check out the major changes and what you need to know to avoid getting a ticket (page 6).
(8/9/18) "Outdoorswomen like Judy Rhodes, Brenda Valentine, and Georgia Pellegrini...pioneered the way" for women who want to hunt and learn more about the outdoors life. Check out these upcoming events for women who love the outdoors or want to know more:
(8/8/18) If you plan to purchase rural land, "here is a "to-do" list that will help you find your dream property at a dream price."
(8/7/18) "Over the last 30 years, [Monty Marengo of Polson, Montana] has built a business that allows him to make a comfortable living as a part-time cone broker…On average, cones fetch between four and six cents each, he said, though certain varieties [such as Austrica] are more valuable than others." This famous Evergreen, Alabama business gathers, prepares and sells much more than pine cones for the floral industry.
(8/6/18) "CNBC's Diana Olick reports the price of lumber is climbing, thanks in part to tariffs on Canadian lumber and that is prompting some U.S. companies to ramp up production."
(8/3/18) These webinars from Auburn's Solon Dixon Forestry Education Center give practical herbicide treatment information to help you manage your land.
(8/2/18) "As firefighters battled the flames and worked to protect homes, goats were a key tool in saving one man's El Dorado County property." Be sure to watch the full story in the video.
(8/1/18) "Announced softwood sawmill capacity increases in the South total 3.2 BBFT. Alabama, Georgia, and Arkansas have the largest increases in projected lumber production. In the past five years, four OSB mills resumed operations in the South and two greenfield mills were established." Included in the increased capacity are new mills in Georgia and Talladega, welcome news for Alabama timber growers. Source: Forisk News, Q3 2018
(7/31/18) "See that line of standing timber in the middle of a cutover? That's a streamside management zone (SMZ), and it protects long-term water quality on a property and everything downstream." Thanks to Timber Marketing & Management of the Carolinas for this handy guide to SMZs.
(7/30/18) "…imagine a township law that tells a farmer when to harvest his corn, or what kind of feed to use to fatten up her hogs." What would be unthinkable for edible crop farmers is not uncommon for those who grow trees. This story is from Pennsylvania, but it has happened in Alabama as well. Watch out for local ordinances that could hinder your ability to harvest and sell your timber.
(7/27/18) "The urge to keep up appearances is also driving … unproductive practice[s]." Ineffective wildfire fighting methods are only one example of how public pressure can steer local policies away from understanding the whole problem in favor of flashy, expensive measures (like aerial fire retardant drops) that may not be right for the situation.

(7/26/18) The Alabama Forestry Commission (AFC) has begun posting the results of their periodic Southern Pine Beetle Detection Flights to the Internet. Go to the current beetle report and map here. If you'd like to receive updates from AFOA when AFC does a flight in the county where your land is located, make sure we have your email address and the county in which you own land in your membership records. Email RLL@afoa.org to update your record.
(7/25/18)) The National Woodland Owners Association published their survey of the top issues facing woodland owners nationwide. Read their take on these issues here.
(7/24/18) "Ontario government cancels 758 renewable energy contracts, says it will save millions." If one government can make rational decisions, others might not be far behind. Watch out wood pellet export industry.
(7/23/18) Sunbelt Forest Ventures announced a high tech sawmill coming to Dallas County.
(07/20/18) "Wow! [Pine Log] Exports to China from Southern ports almost doubled in 2017 from the previous three years." Those are the words of Marshall Thomas, President of F&W Forestry Services in his latest Forestry Report, Summer 2018. Read Marshall's short article on page 1 of the report and don't miss the graph in the second column. The graph shows that exports from the Port of Mobile, while small compared to Savannah and Norfolk, saw huge increases in 2017.
(07/19/18) Mow down thick brush with a Brush Blazer walk-behind rotary brush cutter. Click here to watch a demo video.
(07/18/18) For those situations where you can't or don't want to drive a dozer, back hoe, or skid steer, a radio controlled machine might be just what you need.
(07/17/18) Longtime AFOA members Jon & Carol Gould named Southern Regional Outstanding Tree Farmers of the Year!
(07/16/18) Primary Runoff Election Tomorrow! Tuesday July 17, 7 AM to 7 PM. Sample ballots are on the Secretary of State's website. While the Alabama Forest Owners' Association does not endorse candidates for political office, we thought you might want to know who the Alabama Forestry Association has endorsed: Click Here.
(7/12/18) "He's driving around with my money, my timber and nobody's doing anything about it." At least two landowners say an Alabama man cut their timber and failed to pay before declaring bankruptcy. Nancy Fincher left more detail about her experience in this review at the BBB. The Alabama Forestry Commission has helpful advice on selling timber here, beginning with hiring a consulting forester who is a licensed/registered forester in Alabama. Here is a roster of all licensed/registered foresters in Alabama -- use this primarily to make sure your consulting forester is licensed in Alabama -- do not use the roster to find a consulting forester -- you can contact AFOA to help you with that.
(7/11/18) When you need to share photos and maps of your land with a contractor, forester, or maybe someone interested in a hunting lease, you can use online storage, or "cloud" based services, to more easily share those files. Most services have a free option for smaller amounts of online storage space. One hunting lease advertiser uploaded their images here for others to see. You can see a list and comparison of top sites here.
(7/10/18) "A Hoover man was killed Monday after he was pinned under his tractor at his home." The article notes that the man was wearing a safety belt, and his tractor was equipped with a roll bar.
(7/9/18) The second half of a collapsed whiskey distillery came down this week. Click to see how 9,000 ruined white oak whiskey barrels look in a big, messy pile.
(7/6/18) "Prescribed fire practitioners should consider the biology of various wildlife species when wildlife is an objective." North Alabama landowners might benefit most from this publication, from Craig Harper at the University of Tennessee, about prescribed fire and wildlife in the lower Appalachians, but the species-by-species breakdown could be useful for all landowners who utilize fire.
(7/3/18) "Initiated investors who wish to add timberland to their retirement portfolio and who are willing to do the necessary homework can do so successfully via a self-directed IRA." For timberland owners with an IRA or thinking about an IRA, this might be a good option.
(7/2/18) The Southern Christmas Tree Association's newsletter has been uploaded to the AFOA website here. Includes lots of details about their upcoming Annual Meeting, August 3-5 in Monroe, Louisiana, as well as other resources related to growing Christmas trees.
(6/29/18) This downloadable guide covers the management and restoration of shortleaf pine, one of the native southern pine species. To learn more about all aspects of shortleaf pine, explore the Shortleaf Pine Initiative website.
(6/28/18) Trump's reorganization plan would make significant changes to the education and agriculture departments. Removing the food stamps program from the Department of Agriculture would reduce support for non-essential ag and forestry subsidy programs, don't you think?
(6/27/18) "The increased capacity from existing mill upgrades and planned greenfield mills will undoubtedly help to close the gap between log and lumber prices, but it will take time to work through the enormous amount of standing timber volume throughout the US South. When looking at the entire southern region, there is unlikely to be any significant upward movement in log prices in the near term."
(6/26/18) Domtar, a Canadian pulp and paper company that has owned land in Alabama for many years, produced this video demonstrating the ways they use drones in forest management "to save time, improve efficiencies and help keep its foresters safe."
(6/25/18) "...critical habitat of endangered species is important," Alabama Attorney General Steve Marshall said. "But we have an interest not only in environmental protection but to preserve the rights of landowners." Protecting private property rights is something we wish we heard state officials talk about more often.
(6/22/18) Forisk Consulting tracks the top ten timberland owners and managers each year. On the 2018 list, American Forest Management frequently advertises in the AFOA newsletter, and F&W Forestry is frequently quoted on our new page and in the newsletter. Resource Management Services is also close to home, based in Birmingham.
(6/21/18) We found this extensive guide to recreational trail design via Wednesday Woodland Word. With clear instructions, photos, and detailed diagrams, this guide covers both planning and execution of a trail that fits your needs.
(6/20/18) This set of videos shows an inside look at different careers in the wood industry. If a young person you know might be interested in a forest products career in Alabama, Ashley Watts can offer information and guidance. Reach her at 334-322-2435 or awatts@alaforestry.org.
(6/19/18) Hunter safety courses like the one described here are vital for younger hunters, but "Even the most experienced hunters will learn something new, which will help them become even better hunters or mentors – and safer ones." Check here for Hunter Education courses in Alabama.
(6/18/18) This site has a brief history and overview of the oil and gas resources found in Alabama. Includes a map of these resources in the state.
(6/15/18) Happy Father's Day! We know this video is an ad, but it's still a nice tribute from a grandson to a grandpa.
(6/14/18) "It's OK to cut some trees." This article on the Sierra Club's website explains what foresters know: sensible forest management also helps wildlife.
(6/13/18) "During [building] fires, exposed mass timber chars on the outside, which forms an insulating layer protecting interior wood from damage."
(6/12/18) This guide from University of Tennessee Extension has a lot of good information about what hunters and landowners may want to include in a lease. Especially helpful are the sample leases included at the end of the document.
(6/11/18) "Individual tree herbicide applications offer forest landowners a "hands-on" option to reach forest management objectives. This publication alerts readers to the many herbicides labeled for this use and discusses application technology options." A helpful backpack sprayer calibration method is described toward the end of the publication.
(6/8/18) "A Corpus Christi man is still recovering after he was bitten by a rattlesnake, even after the snake had already been beheaded." Handle all snakes with care--even dead ones.
(6/7/18) These are great points for landowners to consider when drawing up a lease agreement that works for both landowner and hunter. Insurance can cover a landowner's liability for any hunting related activities. An application for the use of AFOA's Hunting Lease Liability Insurance is online at www.HuntingInsurance.bz.
(6/6/18) "For the past four years, the Forest Service has been reviving its traditional tools training methods." Many of these skills would be valuable to anyone who owns or spends time in the woods. Source: Wednesday Woodland Word, 6/6/18

(6/5/18) Planning to buy land with borrowed money? Keep an eye on predictions of rising interest rates, as current rates may be an opportunity that's fast going away.
(6/4/18) "Early signs indicate national forest lands will face a second consecutive year of a severe southern pine beetle outbreak…in Mississippi." A map of pine beetle infestation last year shows significantly more outbreaks on federally owned land. Mississippi is not alone in this problem of poor federal forest management. A new U.S. Forest Service (USFS) report says "forest mortality exceeded net growth on America's national forest timberlands in 2016."
(6/1/18) "…the legal fees that Mrs. Allen would have spent to have an attorney help with her will were likely minuscule compared to the legal fees spent by her family" in taking the case to court. This Texas case is a reminder to consult an attorney in order to avoid the expense and bad feelings heirs can incur with a poorly written will.
(5/31/18) ALFA Farmers also released their endorsements for the upcoming primaries, available here.
(5/30/18) This research program clones trees that appear to be naturally resistant to the emerald ash borer, the invasive beetle that has recently been found in Alabama (map of detected EAB activity). "Maybe most importantly, Koch says the cloned trees appear to be even more resistant to the ash borer."
(5/29/18) These videos from North Carolina extension are a good starting point to learn how to estimate the volume of wood on your land. These could also be excellent real-life math skills for the younger generation, too.
(5/25/18) "Wood use is not a choice, it is essential to our survival." The circumstances in Michigan aren't exactly the same as here, but this article that debunks common misconceptions about forests might be useful to Alabama forest owners as well.
(5/24/18) Members of the forestry community might be interested in seeing who the Alabama Forestry Association endorses for the upcoming primary elections. See the full list of AFA endorsements here.
(5/23/18) The county-specific measures below will be on June 5 ballots, and can be found on both Democrat and Republican Sample Ballots for the specific counties listed on the Secretary of State's website.
DeKalb County voters will vote on 11.5 mills of property taxes that will be in effect for 27 years. That's equivalent to $31.05 per $100 of assessed value of the taxable property for the life of these taxes.

St. Clair County voters will decide whether to establish a Davis Lake Volunteer Fire Department and levy a $150 per year tax on each residence or commercial building in the district. Based on serious complaints AFOA has received related to huge out-of-control fire dues collections on undeveloped forestland from several other fire districts, AFOA urges voters to be cautious before voting yes on this measure.

Marshall County voters will decide whether to allow a $60 per year tax (per parcel, per building, ???) to fund Fire District 21. We have reservations similar to those described above for St. Clair County.

Elmore County voters will decide whether to repeal "The Alabama Limited Self-Governance Act." Since we've heard strong criticisms of the way this law has been applied in other counties, we urge voters to learn more about the reasons this measure is on the local ballot.

Franklin County voters will decide whether to allocate one-fourth of an existing 1 cent sales tax for public schools for purposes of providing matching money for road improvements (ATRIP). We don't know which roads or bridges the county plans to repair, so forest owners may want to check with the county engineer before voting.
(5/22/18) Are you prepared for the primary election on June 5? Enter your street address (email address not needed) at the Ballotpedia website to see the candidates on the ballot in your district for the upcoming primary so you can be an informed voter.
(5/21/18) "Adams told investors he was buying rights to cut timber cheaply and then selling them for higher prices to sawmills." Forest landowners weren't necessarily involved in this timber fraud scheme, but it's good to be aware of things that happen involving the forest industry—even if it's imaginary timber.

(5/18/18) Canadian companies Conifex and Blue Wolf Capital Partners announced plans to acquire two mills in southeastern US.
(5/17/18) This map from Forisk Consulting shows a large area in north Alabama with an oversupply of timber for the available sawmills, but according to Forisk's Timber Price Forecast, the US still needs to import lumber to keep up with demand.
(5/16/18) A proposed farm bill amendment would restrict the definition of wetlands. "Scalia wrote that the Clean Water Act should protect only relatively permanent waters and wetlands with a continuous surface water connection to them." We all like having clean water, but maybe some rules have gotten out of hand.
(5/15/18) "The GOP food stamp changes would shuffle the deck chairs, but the CBO finds that the reduction in government dependence would be relatively tiny." This free-market group says the proposed bill would expand the government safety net for wealthy farm households, too. "Most subsidies go to farm households that have much greater income and wealth than non-farm households."
(5/14/18) In Rhode Island, groups are battling over proposed restrictions on clearcutting forestland to build solar facilities. As more companies seek to lease private land for solar farms, it's worthwhile for Alabama landowners to follow these disputes and exercise caution.
(5/10/18) "Private pipeline companies have long-enjoyed the power of eminent domain. The Fifth Amendment to the US Constitution states "nor shall private property be taken for public use, without just compensation." Alabama landowners should be interested in the way Texas landowners are looking to challenge companies that invoke eminent domain when it doesn't serve the public.
(5/9/18) "A simple tick bite, left untreated, can result in full body paralysis, and even death." And don't forget Lyme disease, Rocky Mountain Spotted Fever, and the increasingly common alpha-gal syndrome, which leaves you with a red meat allergy. Read more about tick bite prevention here. Update: Another case of tick paralysis in June put the spotlight on this uncommon condition.

(5/8/18) "The first and biggest cross-laminated timber (CLT) manufacturing plant in the eastern U.S." is nearly up and running in Dothan, Ala. The plant should be 100 percent operational by September…and will use southern pine lumber to construct the panels."
(5/4/18) "Chris Fields-Johnson uses agroforestry on his 300-acre loblolly pine forest in Scottsville, VA. … To help keep invasives in check, he employs 30 Katahdin hair sheep. Each year trees are harvested for profit, and additional trees are planted. The trees help keep the sheep out of the summer sun while they munch on the invasives."
(5/3/18) "Stable demand from the forest products industry helps protect forestland from its greatest, irreversible threat: urbanization. … Planted stands, which are some of the most productive, have been the least likely to succumb to the pressures of conversion." Thanks to the Wednesday Woodland Word for pointing us to this article.
(5/2/18) "On May 1, 2018, summer "burn bans" for the outdoor burning of land-cleared vegetation commence in the following Alabama counties: Baldwin, Mobile, DeKalb, Montgomery, Etowah, Morgan, Jefferson*, Shelby, Lawrence, Russell, Madison and Talladega. This ban lasts until October 31, 2018." (Source: In the South Next Month, May 2018.) This shouldn't affect you unless you're burning slash piles, but be prepared with a burn permit from the Forestry Commission in case local enforcement officials question your right to conduct a prescribed burn.
(5/1/18) This forest service satellite imaging program will show latitude and longitude of a point on a map with one click. Google maps also shows coordinates when you right click. We can think of lots of uses for this technology.
(4/30/18) We've missed the morel mushroom season in Alabama for 2018, but if anyone in northern Alabama would be willing to host and lead a morel hunt next year, please let us know.
(4/27/18) "A building material that is sustainable and durable, quick to erect, quiet to work with, and could, one day, ensure the future of Ireland's bioeconomy. Surely there's something in this timber revolution that we can learn from?" This article outlines why builders in Ireland should consider a return to wood construction, cross-laminated timber (CLT) in particlar.
(4/26/18) This map of Chronic Wasting Disease spells trouble for the future of deer hunting. Learn more about the CWD threat to Alabama hunters and landowners at AFOA's Annual Meeting with a session led by Keith Gauldin, Chief of Wildlife Section, Alabama Div. of Wildlife & Freshwater Fisheries.
(4/25/18) "John Frank Deese can't think of much he loves more than the smell of fresh-cut lumber and the roar of a sawmill ripping through trees destined for a second life." This video from ALFA and the accompanying article shows working with wood can be more than just a living.
(4/24/18) A new movie, Little Pink House, details an infamous Supreme Court case in which "the court ruled, 5-4, that property owners can be stripped of their land whenever the government decides that a wealthier owner would put it to more lucrative use." It could be a little pink house or 40 acres of your forestland; this is an issue important to forest owners.
(4/23/18) The Foundation for Economic Education posted its annual list of "18 examples of the spectacularly wrong predictions made around 1970," when Earth Day was first observed.
(4/20/18) "It is extremely important to hire a professional forester to conduct a timber inventory if you plan to sell your timber or timberland, if you need to know the estimated value for tax or financial planning purposes, or if you are planning to purchase forestland." But if you just want to know your timber's value, you can learn how to cruise your own timber. This article explains the process, and for in-person, hands-on guidance, we'll have two presentations on this topic for landowners at the 2018 AFOA Annual Meeting.
(4/19/18) "Kimberly-Clark Corp. announced today that it has approved a capacity expansion at its manufacturing facility in Mobile to support K-C Professional's continued bath tissue category growth in North America."
(4/18/18) A Vermont bill intended to protect loggers and working forests "establishes a 'rebuttable presumption' that logging is not a nuisance, meaning that a logging or forestry operation can only be found to be a nuisance if it is negligent or violates state or federal law." Alabama foresters and loggers could also benefit from this kind of common-sense legislation.
(4/17/18) Don't count out paper yet. "Magazine ads that change color at the push of a button, inserts that collect solar power to charge a cell phone, a car ad that actually checks your pulse while making it race ... It's all possible, in the new world of high-tech, interactive print marketing." Watch this video to see paper marketing materials do things you've never seen before.

(4/16/18) These "Your Legacy, Your Land" videos from the American Forest Foundation cover estate planning topics for landowners, from family meetings to conservation easements. Note; these were produced before tax law changes of 2017, so talk over any changes based on this series with your tax professional.
(4/13/18) The next time you're done washing your hands in a public restroom, maybe make your next stop the paper towel dispenser.
(4/12/18) "Over the past several days, at least three Alabama newspapers [including the Shelby County Reporter] have warned that President Donald Trump's proposed tariffs could come at a significant cost to their businesses."
(4/11/18) "Tree growers may gain some optimism for the future based on several recent announcements of plans for greenfield mills to expand lumber production in the South." Good news on the horizon for demand, first quarter stumpage prices, and a tree planting report in the latest F&W Forestry Report.
(4/10/18) "I think it also has to do with Millennials being ready to settle down. Then they take a look at interest rates going up and see money is not getting cheaper and they are ready to start looking. ... It's clear the foundation of home ownership desire hasn't changed in decades."
(4/9/18) "Preventative measures are the only way to avoid being bitten by ticks and acquiring an infection." Auburn tick researcher explains why ticks are cause for caution and how you can be safe.
(4/6/18) This report "reinforces the potential of active forest management to generate more value for landowners," with a reminder that "...forest investments can endure large swings in management costs and volumes or prices of lower grade products; however, the financial returns of forest management are highly sensitive to discount rates, realized sawtimber volumes, and sawtimber prices."
(4/5/18) Westervelt Co. announced plans to build a new mill in South Alabama, which will complement the company's Moundville facility, one of the largest Southern Yellow Pine facilities in the country.
(4/3/18) If you're looking for an Alabama-based company for a structure on your property, we read about this company at alafarmnews.com in the March 2018 magazine: Brock's Log Cabins come in kits that someone handy can put together, or the company's crews can handle assembly.
(4/2/18) "A person writing a will must take great care to ensure their wishes are spelled out clearly, completely, and in accordance with the law of interpretation." Vague wording in a will (or no will at all) could divide your property and your family. Be sure your intentions for your property are legally protected.
(3/30/18) This map of federal land ownership demonstrates why people in western states view the federal government so differently from those of us in the east.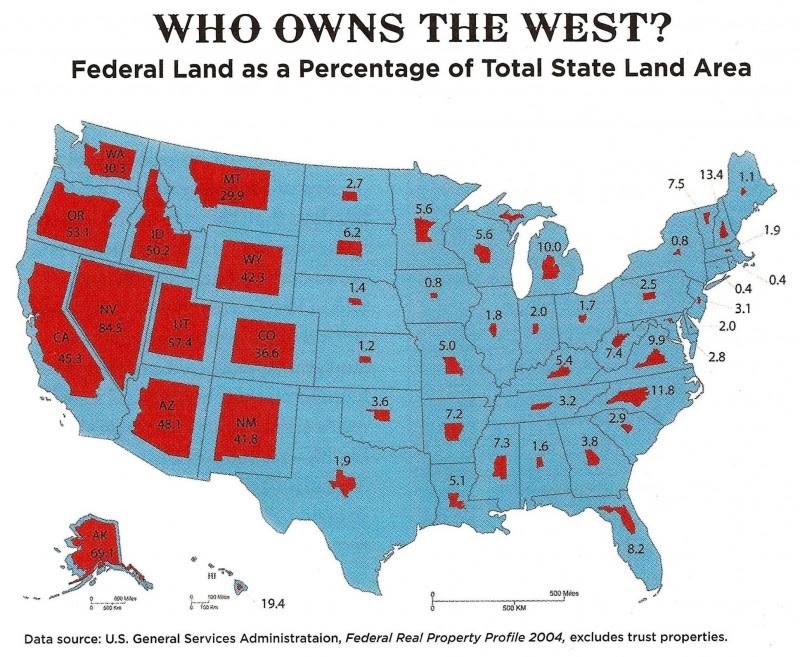 (3/29/18) "As a small land owner, I have had to deal with free roamers for years. They damage my property and the environment." An AFOA member wrote this in a letter to Men's Journal to express displeasure with their feature of a recent book that encourages trespassing. Thanks to our members for speaking up for property rights.
(3/28/18) "Your investment portfolio can also grow under the calming shade of trees … [A flexible] operating backdrop makes timber stocks and ETFs sturdy investments even in a market crash." Capital Ideas quotes prices for the timber ETFs CUT & WOOD each month (top, middle column, page 2).
(3/27/18) Just when we thought the kudzu bug had come to rescue us, Auburn researchers are now trying to kill the kudzu bug.
(3/26/18) "A bill that would erase Dunwoody and Sandy Springs' [Georgia] restrictions on wood-frame apartments awaits Gov. Nathan Deal's signature .... Both cities have codes that require certain large buildings, especially multi-family housing over three stories tall, to be built of concrete and steel rather than wood…"
(3/23/18) "Operators have been anxious to actually receive lumber that was ordered many weeks ago. For their part, sawmills have been doing their best to work through the backorders to get new lumber out the door."
(3/22/18) This new fire-proof shed was made with the idea that having a completely safe place to leave valuable or cherished items can save time and money for those in the path of a fire. Forest landowners might find a use for a structure like this. .
(3/21/18) "Trade of softwood lumber reached an all-time-high in 2017 as demand for wood was strong in most key markets around the world. An estimated 126 million m3 of softwood lumber was shipped from forest-rich countries such as Canada, Russia, Sweden and Finland to markets with high consumption of lumber, including China, the US, the United Kingdom, Japan and Germany. Since the global recession in 2008, international trade of lumber has gone up by as much as 50%. With the economy forecasted to stay healthy in the US and Europe in 2018, this might be another good year for lumber exporters." Source: Wood Resource Quarterly, March 2018

If you're interested in growing hardwoods like white oak, don't miss the first two speakers on the agenda at the 2018 Annual Meeting. View the agenda and register here.
(3/20/18) "New Mexico is a battleground in the fight over once public waterways…" With as many rivers as there are in Alabama, our members might be interested in this question of property rights and waterways.
(3/19/18) "When the clear-cuts green up after controlled burns, they attract turkeys like a magnet."

(3/16/18) Connecticut-based company Mohegan Renewable Energy will reopen the Crossville pellet plant that was formerly Lee Energy Solutions. AFOA may remember touring this plant during the 2014 Annual Meeting.

(3/15/18) "The current industry retirement wave continues, and the job market for recent forestry graduates who want to work with FRA member companies is probably better than it has been in the last 40 years." More reasons why forestry careers are a solid option for young family members who love the outdoors or might even be interested in managing the family land some day.
(3/14/18) "The Supreme Court announced Monday that it would hear arguments in [a case that] could potentially overturn part of a previous ruling that critics have attacked as making it much harder for property owners to protect their rights in federal court." This scenario might seem unlikely for Alabama, but for more reading see our interview with Dr. Robert Tufts and this Progressive Farmer story about old cemeteries on private property.
(3/13/18) "...fresh clear-cut was a prime nesting spot. ... The gobblers will always follow the hens to their nesting grounds." Landowners don't need to fear that cutting timber will interfere with hunting.
(3/12/18) "When making forestland management decisions, landowners are often concerned with the cost of forestry practices. … This report summarizes the results of a 2016 survey to examine the costs of forestry practices across the southeastern United States."
(3/9/18) "Forests in the United States have been growing for about 50 years. Today, more than 90% of US paper comes from high-yield forests planted specifically to be harvested." So printing that email won't hurt our forests. In fact, many states are eyeing a return to paper for election day. A survey of millennials found that the majority of respondents "considered paper as more official, trusted, and safer and more secure as compared to digital documents."

(3/8/18) "CWD is fatal to all deer that contract it," although reduced defenses against infections and predators might kill them before the disease takes its course. This article seeks to clear up some common misconceptions about Chronic Wasting Disease and its danger to the deer population and hunting industry. Chuck Sykes, Director of the Alabama Department of Conservation and Natural Resources' (ADCNR) Wildlife and Freshwater Fisheries Division, says: "We have been testing an average of 400 deer per year since 2002. There are no known CWD cases in Alabama as of today."
(3/7/18) "...after California's worst fire season on record, policymakers appear set to make the same decisions that put homeowners at risk in the first place." Perhaps there are some similarities to the way people rebuild in hurricane-prone areas.
(3/6/18) "I'm always thinking in terms of generations." Interesting article about the youngest son of the von Trapp family from the musical The Sound of Music, who was a forester before returning to manage the family property in Vermont.
(3/5/18) We've seen bamboo promoted in the past, but so far it hasn't saved the world. Landowners and county officials should be very cautious before investing money or land in bamboo projects.
(3/2/18) "Using drones, foresters can now quickly check for infestations. What used to be a half day's work is now accomplished in 20 minutes." This article outlines various ways one forest products company uses drone technology for forestry tasks.
(3/1/18) Demand for pine sawtimber will increase in Pike County, where Rex Lumber Co. will break ground on a $110 million lumber manufacturing facility later this month. "[Rex Lumber] is among the 10 largest softwood lumber producers in the United States, according to the state's Department of Commerce."
(2/28/18) Officials identified the victim of an ATV accident in Cullman County over the weekend. We are saddened by the tragedy for this family and reminded that recreational forest activities can carry risk, so safety measures are important for all forest landowners and enthusiasts.
(2/27/18) "Six new southern pine sawmills started up production in the South in 2017 and early 2018. Along with seven mill expansions and upgrades planned for 2018 and 2019, there are three other new sawmills planned … The combined total investment associated with these projects exceeds $1.3 billion and could create an estimated 1,400 new jobs across the South."
(2/26/18) "…growth in the European industrial pellet market is decelerating as fewer coal units remain to be converted to wood pellets … Like the European countries that facilitated the first round of wood pellet development, Japan and Korea have some key characteristics that make them attractive markets for wood pellets."

(2/22/18) "Alabama is known as a low tax state, but are we the lowest? Not even close." See how Alabama stacks up among its neighboring states.
(2/21/18) Succession planning is hard. Expectations can be a killer. The "Real" Family Dinner Table. Values and purpose make a wonderful life. Click here to see how these video clips relate to planning for the next generation in the family business.
(2/20/18) The Alabama Farmer's Federation has released a list of endorsements for the June 5, 2018 primary election. AFOA does not endorse candidates itself, but if you know of another organization with endorsements in the interest of landowners, please let us know at RLL@afoa.org.
(2/19/18) A white-tailed deer collected on January 25, 2018, in Issaquena County [Mississippi] has tested positive for Chronic Wasting Disease (CWD). See our past news items last October and in July of 2016 for more information.
(2/16/18) On Feb. 12, the Trump administration released its 2019 budget proposal for changes to make to the federal government's spending. Here is a breakdown of his proposed cuts and changes.
(2/15/18) Landowners might consider thinning their pine plantation to "improve the economic rate of return from their planted pines, to improve wildlife habitat, or to protect the health of their pines." Here are 10 things landowners should know before undertaking this step.
(2/14/18) Policy positions from the Forest Landowners Association: "A series of policy priorities to foster a strong business environment and balanced regulatory climate for the benefit of the families who own and manage forestland."
(2/13/18) "While there has been some increase in the use of fire in woodlands in the last decade … there are many more millions of acres that need burning and are not getting it." Ted DeVos, who penned this article, has been a frequent speaker at AFOA events. We don't want to see Alabama with the problems facing California. At the least, be sure to leave a significant buffer if you build a house in a forested area.
(2/12/18) While the idea of deducting actual casualty losses following natural disasters (hurricanes, tornados, fires, etc.) instead of our basis, might make forest owners happy, would it be inappropriate for a small special interest group to ask for a special carve-out of tax law while constantly urging Congress and the President to keep a tight rein on spending? Read the full text of HR4962 here.
(2/9/18) International Paper announced "plans to invest $552.7 million in its Riverdale Mill in Dallas County ... The additional investment just announced will allow the mill to convert a line making uncoated freesheet, or copy paper, to [high grade packaging materials]."
(2/8/18) "While this example by no means gives an absolute valuation to pine plantation management, it does make the case that current improvements in pine genetics and operational techniques have maintained a level of financial performance despite long-term, downward stumpage price trends." Note that this example assumes professional forest management at every stage on a scale not available to every private forest owner.
(2/7/18) "Chinese buyers are buying more logs directly from log exporters, bypassing the U.S. sawmills. …The species they want are red oak, white oak, hickory and cherry." Come to AFOA Annual Meeting April 27-28 to learn how to grow hardwoods.
(2/6/18) "We're trying to get it to the next generation, or the next two generations, intact with the smallest amount of tax pain that we could possibly have." Forest owners, ranchers, and farmers are often in the same boat when it comes to passing land down intact to the next generation.
(2/5/18) The IKEA Group "has purchased approximately 25,000 acres in Lowndes County, according to an announcement from the company….The purchase is part of a "broader strategy to invest in the sustainable production of resources that IKEA Group consumes directly," the company said."
(2/2/18) These bills may be of interest to our members, especially those who live in rural areas of the state. Look up the complete text of bills here. Reported to us by Alabama Agribusiness Council:
• SB79- increases the number of years a state income tax credit is given for doctors and dentists who reside and practice in rural areas. Goes to House.
• SB61-Dial- allows the taking of whitetail deer and feral swine by means of bait. In Committee (AC&F)
• HB 242- clarifies the existing sales tax exemption for agricultural products would apply when a farmer cultivates and harvests an agricultural product on leased or rented land. The bill would exempt the gross receipts from the sale of pine straw products and the produce would be exempt from the state sales tax.
(2/1/18) "Young people today are more likely to develop an interest in [logging] by seeing it. ... Mechanized logging is an exciting industry." This video aimed at high schoolers shows what a logging career can look like.
(1/31/18) In St. Clair County, voters rejected a 5 mil property tax increase on January 30. Of the four St. Clair school districts, only Leeds voted to approve a 3 mil increase.
(1/30/18) A simple search on this Webinar Portal for Forestry and Natural Resources turns up several forest-related programs of interest to landowners.
(1/29/18) This report from Oregon on stream temperatures suggests that we might need more research on Streamside Management Zones in Alabama. Current recommendations for logging around streams might be more aggressive than are actually needed.
(1/26/18) A man in North Carolina captured this image of an unusual means of death for a deer, a reminder that life and death struggles happen in our own forests.
(1/25/18) This video from ArborGen gives some good tips for planting loblolly and slash pine seedlings.
(1/24/18) The Supreme Court will hear the dusky gopher frog case, a serious problem with far reaching implications.
(1/23/18) "The State of Alabama has abundant natural resources and forests in addition to a diverse agricultural industry…The results of this study show that the removal or diminishment of agriculture production, forestry, and related industries would have a negative impact on a wide variety of industries across the State of Alabama.
(1/22/18) We knew about the softwood lumber dispute but hadn't heard about this trade dispute involving newsprint.
(1/19/18) "Global sawlog prices were higher throughout the world in the 3Q/17 and are likely to continue upward into 2018 because of strong demand for lumber in key markets … With the outlook for continued strong demand for lumber in key markets and higher consumption of sawlogs, it is likely that the price index will continue upward in the coming quarters. For the complete report, visit the Wood Resource Quarterly.
(1/18/18) "Too much is at stake for you to sell timber without an understanding of the markets and of the quality and quantity of your timber." Remember this is from North Carolina, so there may be some differences, but this timber selling guide is a good start to understanding the process. - Source: Wednesday Woodland Word, 1/17/18.

(1/17/18) The Alabama Forest Owners' Association frequently refers members to consulting foresters. If you would like to know more about the profession how they can help you, check out this article.
(1/16/18) Two stories in this quarter's F&W Forestry Report may be useful/of interest: Canadian Sawmill Investments Make U.S. South the Leader in Lumber Production in North America (p. 7), and Tax Bill Has More Positives than Negatives for Forest Landowners (p.5)
(1/15/18) The Alabama state legislature is back in session. "Of note to forestry is SB131, sponsored by Senator Trip Pittman (R-Montrose) which redistributes 20% of the forest severance tax from the Alabama Forestry Commission to the State's General Fund. Pittman's bill will be taken up in the Senate's Finance & Taxation General Fund Appropriations committee (which Pittman chairs) on next Wednesday." The fuel tax will likely be taken up again after the midterm elections. See the AFA's complete brief on the issue of fuel tax here.
(1/12/18) Firehawks "have been seen carrying smouldering or flaming sticks in their beaks or talons to spread the fire to where prey may be sheltering." Although fire can be an important forest management tool, we don't want to see these raptors as an invasive species!
(1/11/18) Scientists will be field testing poison baits as feral hog control in central Alabama beginning in summer of 2018. Read more about the program here.
(1/10/18) "One of the state's largest solar energy facilities, built in partnership with Alabama Power, is up and running in Chambers County." Tony Hubbard's presentation "Solar Power: Opportunities and Pitfalls," given at the AFOA annual meeting, has key information for forest landowners to consider about potential solar power projects.
1/9/18) If you grow or are interested in growing Christmas trees, you might be interested to know that you can get insurance designed specifically for Christmas tree growers.
(1/8/18) For members interested in forestry and stock investments—Raymond James offers an industry update heading into the new year. You can view the full report here, but some key points from the summary include:
Upgrading Potlatch to Outperform from Market Perform

Raising our price targets for Rayonier and CatchMark

Introducing initial 2019 estimates

Incorporating the new tax law into our estimates for Weyerhaeuser and Potlatch
(1/5/18) "At a cost of $1.6 to $2.9 billion in 2016 (including syndicated and non-syndicated deals), conservation easements rank among the largest federal environmental and land management programs in the budget." For comparison, this program costs nearly as much as the entire National Park Service, but benefits only a few.
(1/4/18) The Black Warrior waterdog, or "mudpuppy", is now a federally protected species. Critical habitat for the species will include "five tributaries within the Black Warrior River Basin have been designated critical habitat: Sipsey Fork (Lawrence and Winston Counties); Locust Fork (Blount, Etowah, Jefferson, and Marshall Counties); Blackwater Creek (Walker and Winston Counties); and Yellow Creek (Tuscaloosa County). …The designation will also have no impact on private landowners taking actions on their land that do not require federal funding or permits."
(1/3/18) "We want people to understand that harvesting trees is a good thing." This great video profiles John and Ann Boutwell, owners of Cedar Creek tree farm in Butler County.
(1/2/18) This explanation of the new tax bill was sent by an AFOA member who said: "Sen. Susan Collins' awesome defense of her tax cut vote. She hits this out of the park..most of the time I am NOT one of her fans."